2021 Kia Forte5 in Amherst, Nova Scotia

The 2021 Kia Forte5 at Atlantic Kia
Atlantic KIA proudly stands as the preferred automotive showroom in our region, where we currently offer the 2021 Kia Forte5 for sale in Amherst, Nova Scotia. For Amherst, Sackville, Maccan, Springhill, Oxford and surrounding areas, we are the right place to enjoy every Kia model. In addition to the 2021 Kia Forte5, an exciting and noteworthy hatchback, we offer new and used KIAs. You are welcome to check out our new KIA inventory online and in our showroom, and we invite you to apply for financing. Feel free to contact us for more information related to the application process.
Compact without Compromise
Let's talk more about this new hatchback. On our welcoming lot in Amherst, we find ourselves captivated by the 2021 Kia Forte5 exterior design features. Highlights include sweeping aerodynamics, front and rear spoilers, heated side mirrors and an impressive array of available paint shades.
The Forte5's racing-inspired GT trims include a red-accented radiator grille, 18-inch wheels, LED headlamps and dual exhaust pipes. Simultaneously, the 2021 Kia Forte5 interior features include a height-adjustable driver's seat, heated front seats, a heated and leather-wrapped steering wheel, a luggage net, satin-chrome door handles, and an 8-inch touchscreen.
To jump up from standard interior features, switch from a Forte5 EX to a GT MT, GT or GT Limited. Each of those trims includes dual-zone, automatic climate control, a D-shaped steering wheel, sport seats and push-button ignition accompanied by a smart key. For a broader spectrum of cabin experiences, the GT and GT Limited also include ambient mood lighting. Additionally, in the GT Limited's cabin, we find synthetic-leather seats, air-cooled front seats, heated rear seats and an enlarged instrument cluster with Kia's Supervision LCD/TFT technology.
2021 Kia Forte5 Interior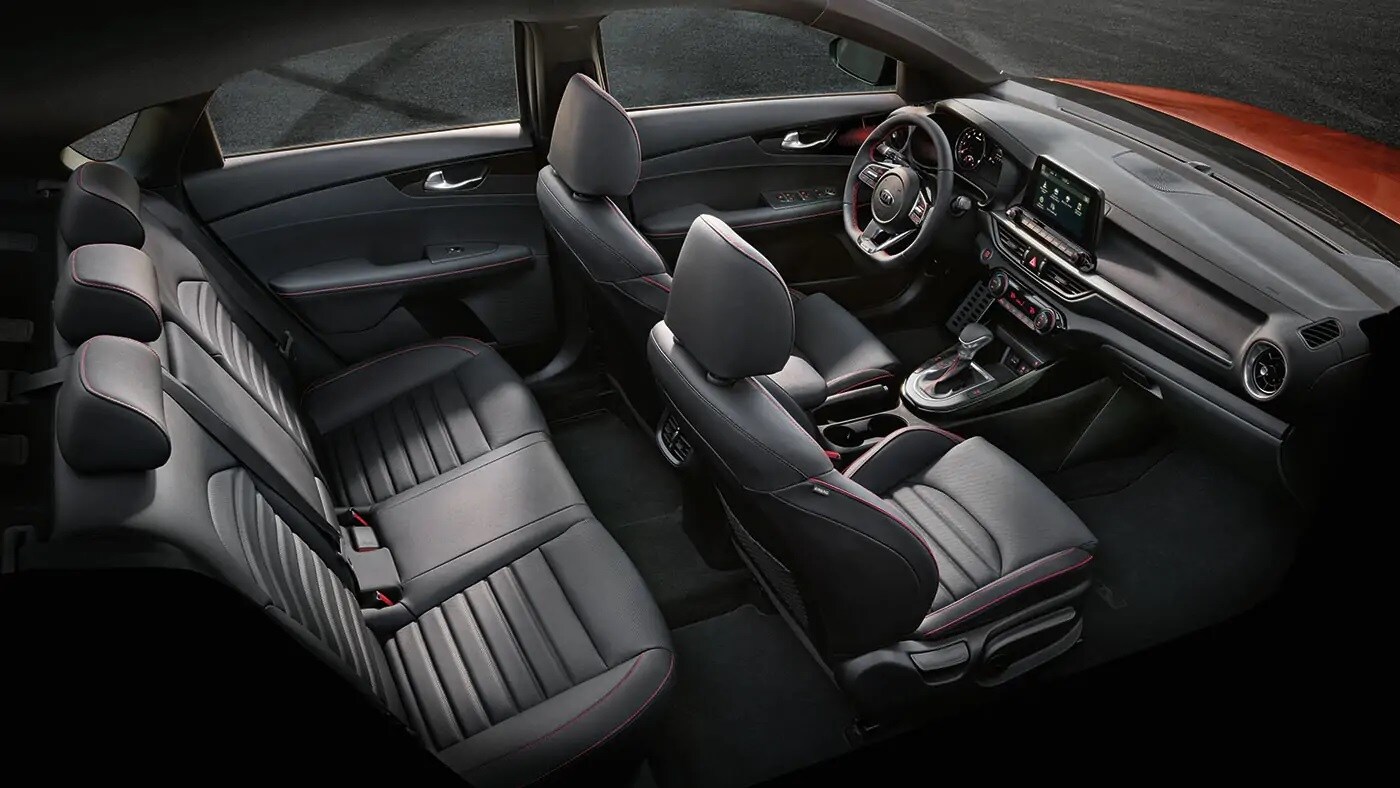 2021 Kia Forte5 Exterior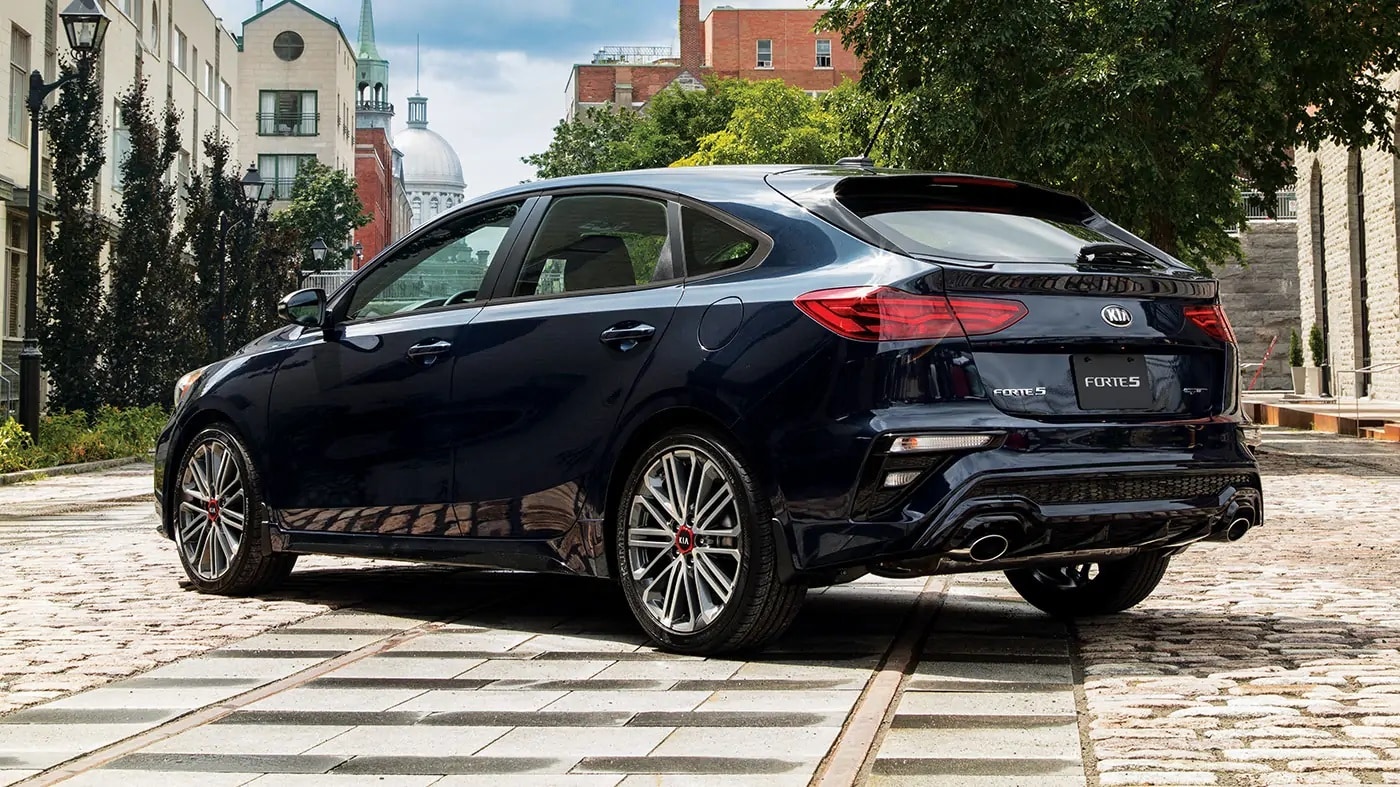 The GrandStand KIA Performance
Of course, an uncompromising hatchback must perform, and the Forte5 does that through two available engines. Under the hood of a Forte5 EX, we find a 2.0L MPI engine. This setup powers the hatchback with 147 horsepower and 132 pound-feet of torque. Meanwhile, the unit consumes just six litres per 100 highway kilometres and eight litres via city driving.
A 1.6L Gamma Turbo GDI engine powers the Fort5's GT trim. This machine achieves up to 201 horsepower, and it offers 195 pound-feet of torque. Full command over shift points comes via the GT MT trim. Here, MT refers to its manual transmission, and this trim pairs the Gamma Turbo GDI engine with a leather-wrapped stick shift.
Opting for the GT or GT Limited trim provides a seven-speed, dual-clutch, automatic transmission with drive modes, which deliver a tailored driving experience. Notably, the GT and GT Limited offer improved fuel economy compared to the GT MT. While the manual GT MT consumes up to 9.9 litres per 100 kilometres, the automatic GT trims help the turbo engine achieve 8.9 litres / 100 km in town and 6.9 litres /100 km on highways.
2021 Kia Forte5 - Popular Technology and Safety Features
To maximize the Forte5 experience, select the GT Limited trim. It delivers sought-after technology and safety components. For example, while every Forte5 features an eight-inch touchscreen, the GT Limited one provides a multimedia interface with integrated GPS navigation. Ultimate convenience during highway drives comes via the trim's Smart Cruise Control feature, which adjusts the cruising speed based upon traffic sensors and other advanced-tech inputs.
Regarding safety, the GT Limited expands on the Forte5's suite of driver-assist features by providing Advanced Forward Collision-Avoidance Assist. This system quickly senses changes and obstacles ahead and alerts the driver when needed. The safety-tech suite found on every 2021 Forte5 includes the Lane Keep Assist System, which provides visual and audio notifications about potential lane departures. This system also assists with steering to keep the Forte5 within the desired lane.
Another tech feature that deserves highlighting is the Driver Attention Alert System. Using data from sensors that watch the driver's eyes, this system provides warnings via the hatchback's instrument cluster when it detects an attention-related issue. Remarkably, if the Driver Attention Alert System detects that the operator may be tired, it suggests a rest stop and a cup of coffee.
Meet the 2021 Kia Forte5 Today
We enjoy demonstrating the many reasons we are proud to offer the 2021 Kia Forte5 in Amherst, Nova Scotia. Using one of our convenient methods, contact us to schedule a test drive. At the scheduled date and time, we will be ready to share Forte5's many facets.
2021 Kia Forte5 Inventory in Amherst, Nova Scotia